Showcase your properties with our easy to use Back Office Pro Listing Manager. You will be able to easily create listings by entering a property's information into a group of fields. (E.g. square feet, number of bathrooms, etc). Once a you click save, the listing is instantly updated to the website. You can even load up to 24 pictures of your property right from your own computer.
One of the best things about this software is that it is entirely web-based. You can add, modify and delete your listings from any computer that has Internet access. The software has a simple menu driven form to walk you through the entire process. Once you have done it a couple of times you should be able to setup new listings within a minute or two.
Once your properties are listed, buyers can click on a property to get a more detailed view. Buyers can click on the small pictures to get full size pictures and even click on the automatically generated map link to see exactly where the property is located. To see an example of what your listings would look like CLICK HERE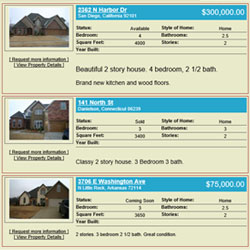 Free Bonus
Statewidehomes.com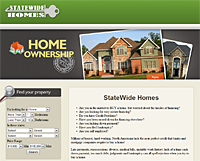 This site caters to finding buyers who are looking for creative terms. Your properties can automatically be included on this new site absolutely FREE with no additional setup fees and no cost to you period.