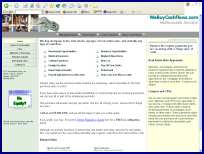 The note business is very competitive and a website is a necessity to any note broker who is serious about growing his or her business.
Get your own note buyer site with the same great choice of templates and all of the same benefits of our Pre-Fab Websites.
Of course the note broker sites are customizable, so if there is anything that isn't included then we will gladly add it for you.
Real estate investors, who also deal in notes, can also add note buying information to their affiliate or pre-fab site, including online quote forms etc.
For Note Broker site ordering please call us at 1-877-444-9327 or Direct - 479-986-9158
Note Broker Site pricing:
$95 Setup Fee
$29 per month