It was a nice sunny afternoon when I received the frantic call from a brand new tenant who was just moving into one of my properties. When the tenant showed up with the moving truck they discovered the spicket on the water line feeding the washing machine had come completely off and water was shooting in the air like the Old Faithful Geyser. Nobody knows for sure how long this had been going on, but most of the house was flooded. After having the tenant shut of the water I promptly contacted my plumber and a water extraction company.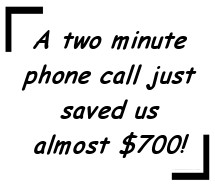 I paid my plumber $170. About had a heart attack while writing a check to the water extraction company for $2,800 and couldn't believe my eyes when the water bill came in at $933.79. My previous utility bill on this vacant house was only $28. It turns out that 126,000 gallons of water had shot through that water line before it was shut off. This is enough water to fill 420 hot tubs (the 300 gallon size) and I didn't even get to enjoy it.
Being in real estate for many years, this wasn't my first water leak, but it was my first leak with this particular utility company. I contacted the utility company, explained my dilemma and asked for any kind of break they could give me. They asked me to fax them a copy of the repair bill so I faxed them a copy of the plumber's bill and the water extraction companies bill.
Two days after faxing the information to the utility company I received a telephone call informing me that they were reducing my bill by $697.16, down to $207.65. A two minute phone call just saved us almost $700! I was obviously happy with the utility companies decision.
My past experiences with water companies has been that they are typically pretty easy to work with in this manner. A large portion of most water bills is for sewer service and when you have a water leak that does not go down the sewer you can often get a significant discount. In this particular city the sewer portion of the bill is 52% of the water bill. In this case, the water company discounted much more than just the sewer portion of the bill. I'm not sure how they calculated the discount, but my grandfather always told me to never look a gift horse in the mouth.
Does Homeowner's Insurance Cover Water Damage?
Some policy's do cover damage caused by plumbing leaks. If you have a loss, and you are not sure whether you are covered, you should definitely contact your insurance company to confirm. I personally have had very few of these problem and have decided not to spend the extra money for water damage coverage. However, if you do not have the financial wherewithal to handle an occasional problem like this, you should consider coverage.
Water damage coverage does not typically provide protection for the cause of the leak itself, only the loss it creates. For example, if your dishwasher leaked and caused damage to the floor, the floor would be covered but not the dishwasher. In my example above, an insurance policy would've likely covered the $2,800 water extraction bill and nothing else.
TIP! Turn the Water Off in Vacant Houses
Whenever possible, keep the water turned off in your vacant houses. You can turn it off at the meter so that you can easily turn it back on for cleaning etc. In my situation we lost 126,000 gallons of water in a few days. If the leak had gone on for a longer period of time, my house may of floated down the street.

For more great real estate, website and general business information subscribe to our newsletter