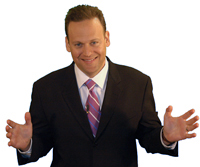 Let me start out by stating that I owe Bill Bronchick much credit for my personal success as a real estate investor. Several years ago my wife and I wanted to go from part time investing to full time investing and it was Bill Bronhick's real estate courses and one-on-one mentoring that enabled me to leave my corporate job and allowed us to start our successful full time real estate investing business in 1998. It is now many years later and the corporation that Bill Bronchick helped us start is still growing and stronger than ever. We still use Bronchick's legal forms etc. in our day to day investing.
Bill Bronchick is the main stockholder of Bronchick Consulting Group and the CEO of Legalwiz Publications. He is a man of many skills. He is a real estate investor, speaker, attorney, author, and entrepreneur-all rolled into one. Bill Bronchick is also the President and co-founder of Colorado Association of Real Estate Investors. He started his practice in real estate and law in 1990. According to Bronchick, he has been involved in more than one-thousand real estate deals.
William Bronchick's articles appear in newspapers, magazines and journals worldwide. He has appeared as a guest on numerous radio and television talk shows, such as CNBC "Power Lunch."
Some of Williams Bronchick's most popular programs
are are included in his Real Estate Library.
Flipping Properties - "Flipping" properties is your fast track to fast cash in real estate. This course will show you the legal, ethical and profitable ways to generate cash NOW, not years later in real estate. Covers every aspect of quick-turning properties, from marketing to contracts to collecting your paycheck.

Big Profits with Lease/Options - Whether you are a beginner looking for a quick way to get started or an experienced investor looking to sell houses for top dollar in a soft market, the lease/option will be an essential tool in financial toolbox. You will learn how to create INSTANT equity and monthly cash flow FAST, even if you have no cash or credit.

Alternative Real Estate Financing - This best-selling course is the is the creative financing "bible" for investors nationwide. Learn a dozen ways to buy and sell properties without bank financing, credit or cash. Learn the right way to buy "Subject-to", including all the proper forms and disclosures. Learn the smart way to buy "nothing down".

Secrets of a Real State Lawyer - Are you drowning in the sea of paperwork involved in real estate transactions? Are you ready to start filling in the gaps and important legal issues that so-called "gurus" leave out of their courses? Are you interested in saving a fortune by doing some of the simple legal paperwork that real estate attorneys have had a monopoly on?
You will find many books and tapes available on real estate investing, but none as complete as William Bronchick's Real Estate Success Library. The techniques, strategies and legal forms come from William Bronchick's personal experience as an attorney and investor who is actively involved in real–life deals.
Bill Bronchick's advice and speeches are sound and to the point. Bill Bronchick's books and courses are great for newbies and experienced real estate investors alike, as they offer systematic guidelines and concrete information about real estate dealings. It is my opinion that Bill Bronchick ranks among the more honest people in the real estate business. Click here to visit Bill Bronchick's website