At InvestorPro, we understand that besides the normal needs of other investors, wholesalers must build a database of rehabbers who are looking for wholesale deals. InvestorPro websites come loaded with all the features you need for successful wholesaling.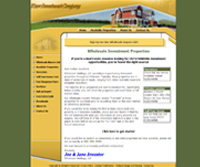 WHOLESALER PLAN
If you are a full time wholesaler you may prefer that your site's home page is more geared to your business. The Wholesaler website's home page is specifically designed to encourage wholesalers to sign up for your wholesale buyers list.



PLEASE NOTE: The cost for the Wholesaler Plan is the same as the Gold plan. The main difference between the two plans is the home page.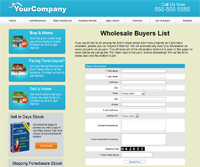 GOLD PLAN WITH INVESTMENT PROPERTY PAGE
If wholesaling is not your main focus, you can purchase a Gold Plan website which comes with an Investment Property page as part of the website package. This page will allow you to collect information to build your wholesale buyer list. The Gold plan website is customizable and you are able to modify this section or other pages to make your site work seamlessly with your business model.



---
Here are just a few of the great features available for either plan:


EMAIL PROPERTY FLYERS
With our BackOffice Pro lead management and property management system you will be able to send an email flyer to your wholesale buyers list that includes pictures and details to notify them that you have a new property available.


ADDITIONAL SITE SPECIFICALLY FOR BUYERS
Some investors prefer to have two separate sites: one for buying property and one for selling. If you are interested in this option please let us know before ordering.


FREE PAGE FOR ATTRACTING MONEY PARTNERS
Attract all of the investment partners you need with the combination of this high quality site and a special page just for investor partners. Your site will add tons of credibility when you are trying to attract money partners.


PROPERTY LISTING MANAGER
You can easily list your properties with pictures and virtual tours on your website. You can have as many property listings as you need and each listing can have up to 24 pictures. Click here for more information.


SELECT FROM OVER 40 TEMPLATES
Even though you choose from a template, your website is built from the ground up and you can customize it to fit your business module.


Questions? Call us at 1-877-444-9327
or Direct at 479-986-9158